Like fashion, there is a certain taste and a reason for interior design. It doesn't just come together and look beautiful.
An interior designer asks many questions, shows pictures, and uses color swatches to get an idea of what it is you like and want. With a little study, you can decide on the style you like and design your one living room to be engaging and take you from boring to interesting. It all starts with decor trends, and you want to use these design categories as a guide to categorize and create your home decor collection.
It is important to look through magazines and pictures to find particular design styles you are drawn to. This analysis will help you choose the appropriate decor and paint walls, install the perfect doors, and select the ideal lighting fixture for the decor you are going to use.
For example, if you decide you are drawn to the coastal or the minimalist style, you will start to think of all the elements to this style even before bringing in the furniture and accessories. So you would first open up the house and bring more natural light by changing out the traditional wood doors for a lighter and brighter pocket door or French doors. You would install modern and open-styled light fixtures that would add that sunlight feel to the home.
However, if you decide you like the country look or the rustic look, you would choose deep wood doors, stone-faced walls, a fireplace, and dimmer light fixtures.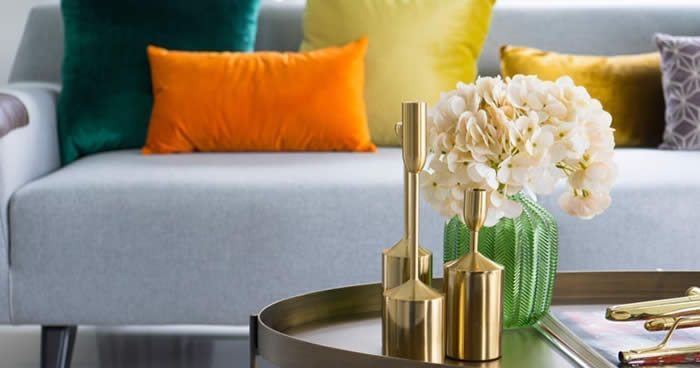 To understand what you are looking for, you should determine what the basic decor styles are and which of these you are drawn to the most. Here we have listed the basic decorating styles for you to consider.
Coastal Style
You can like the coastal style even if you don't live by the ocean or on a beach. Basically, it means you like toned-down colors of blues, sandy taupes, and natural light. This gives you a cool, calm feeling of coastal decor. If you like this style, you want to think of sea-worn furniture and light, breezy colors.
Country Style
The country style is about comfort and warm cozy earth tones. It has an old work look with finishes that are softened. The style uses calico fabrics, wood carved decorations, flowers, greenery. Essentially, it is a style that brings the outdoors inside.
Bohemian Style
Bohemian is about travel and having an ethnic mix of home decor with its own story. It is for those who live a bit differently and love different patterns and textures from different parts of the world. This style borrows from different styles, and it is not really about functionality but about the artistic look.
Minimalist
It's not really a design of having nothing, but more about living without clutter. In this style, there is no layering, no textures, and no vibrant colors. The idea is that the home decor is there to neither distract nor detract. For example, a minimalist designed room may make only one element a focal point of a room. Minimalist styles are easy to clean and an ideal solution to small rooms.
Rustic
Rustic style is typified by the heavy, rustic woods of the 19th century. Repurposed furniture and reclaimed wood beams come to mind when we consider this style. The rustic design is about nature in its raw beauty. The style is known for its neutral colors, wood furnishings and features, and clean lines. It is about embracing the organic and resisting contemporary construction methods.
Mid Century Modern
This style was a throwback to the early 20th-century design and is now also known as the Retro style. Some people refer to it as a modern-looking '60s style with clean lines and classic modern style, which also works well with smaller rooms.
Traditional Style
If you think your home should be comfy and cozy, the traditional style might be your game. It is a semi ornamental type of decor that is traditional and makes a home feel like a castle. It is a mixture of many different styles and made with traditional earthy tones and warm-colored accessories.
Once you know what style you want, it is easier to choose the furnishings and accessories you want. The best way to find your style is to look through decor magazines on social media sites like Pinterest, and even on designer websites to see what the latest trends are and how they work in modern-day homes.