The actor recalled Mahesh Bhatt throwing a shoe at her and Aditya Chopra threatening her
Referring to Bollywood bigwigs as the "movie mafia", Kangana Ranaut – in a recent interview with an Indian television channel – slammed several including Karan Johar, Aditya Chopra, Mahesh Bhatt and Javed Akhtar for being responsible for Sushant Singh Rajput's death.
Unlike her earlier claims highlighting the discrimination in Bollywood vaguely, Ranaut spoke in detail this time about the financial prospects of her career that were jeopardised in an attempted to corner her. She then explained how this 'movie mafia' had "systematically sabotaged" late Rajput's career as well.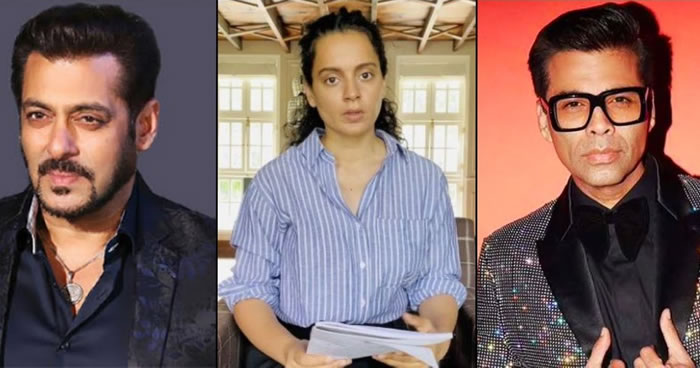 anaut accused Chopra's Yash Raj Films (YRF) of being responsible for mentally harassing Rajput. She also claimed that Johar made Drive to sabotage the late actor's career. "YRF didn't allow Rajput to work in filmmaker Sanjay Leela Bhansali's films… and the ongoing interrogation by Mumbai Police is a complete sham, since they have failed to summon powerful people," she said.
Ranaut added that she was threatened by Chopra when she refused to work in Salman Khan-starrer Sultan and was told that her "career is finished", besides that, she even confessed that at one point she contemplated committing suicide following the systematic targeting.
The Queen actor went on to reveal that Bhatt had once even thrown his footwear at her when she rejected his film and questioned its content.
She even went on to recall how Akhtar had once asked her to apologise to Hrithik Roshan (after their personal life details became public). Following this, he allegedly threatened her, claiming that if she doesn't, she will have to commit suicide since she will have nowhere else to go.
In the middle of her conversation, Ranaut said, "Sir, what I want to put forth with this interview is that I only have things to lose. I only have to lose. Because I know tomorrow they can get 20 needy outsiders like Tapsee Pannu or Swara Bhasker who will get up and say, 'Oh, only Kangana has a problem with nepotism, we love Karan Johar.'"
She then responded to this presumed argument that she believes the mentioned actors may present. "If you love Karan Johar then why are you still B-grade actresses when you are both better looking than Alia Bhatt and Ananya and are even better actors, why don't you get work? You're whole existence is a proof of nepotism, how can you tell me that you are happy with the industry?"
Ranaut then concluded by saying that she knows the whole system will work in a way that she is made to look like the mad person.
Pannu, however, refused to take the route Ranaut did and indirectly called her 'bitter' according to Hindustan Times. She said, "I refuse to be bitter and take advantage of someone's death for personal vendetta, and make a mockery of the industry that gave me my bread and identity." She even went on to say, "I have had my share of struggles but just because I don't glorify and deal with them with a positive outlook, it doesn't make me any less of the 'outsider'."
Bhaskar, on the other hand, after praising Pannu's response on Twitter, lauded Ranaut in a separate tweet. Instead of being aggravated, she said, "Needy outsider and B grade actress but still better looking and a better actor than Alia Bhatt and Ananya? I think this was a compliment, thanks Kangana. I think you are gorgeous, generous and a great actor. Shine on!"
According to the outlet, however, industry insiders have expressed diverse point of views. Director Hansal Mehta says, "Group-ism exists, and it exists everywhere. People do tend to form support groups but the problem arises when there is targeting and bullying, which can really hit you badly." For actor Gulshan Devaiah, in Bollywood, everything eventually boils down to the "perception." He says, "Here, one actor is perceived to be better suited or perceived on the basis of his market value. And (as an artist), that can be extremely disappointing as well as extremely taxing."
Filmmaker Tigmanshu Dhulia readily admits that "group-ism exists in the industry" but at the same adds that as far as nepotism goes, it exists in "every sphere" of life. "But ultimately, one has to prove himself/herself, regardless of family's name," he says.
Nevertheless, Ranaut has promised recently that she would return her Padma Shri if she failed to prove her claims/statements and this interview seems like the beginning of just that.