After the huge success of the first "virtual 'Catwalk Cares Virtual Fashion Show Season One' by Catwalk Event Management & Productions which received wide-ranging coverage on numerous digital platforms, ''Catwalk Cares'' Virtual Fashion Show Season 2' is slated to take place in August 2020 on this Eid ul Adha.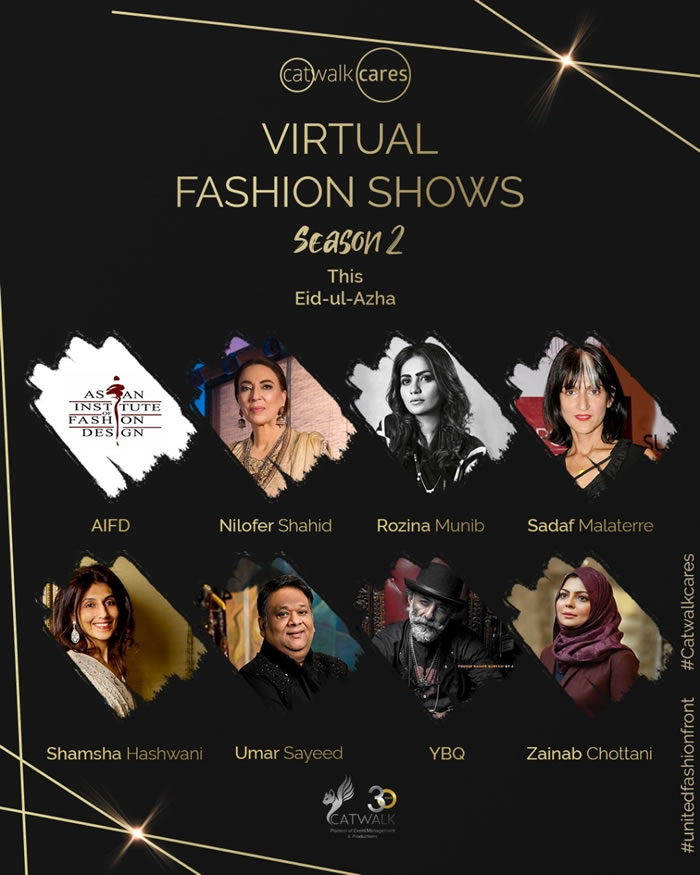 While the impetus of the highly successful previous fashion showcase was to pay gratitude to the front-liners at the forefront of the Covid-19 pandemic, the upcoming showcase will be about creating 'Fashion Sustainability' for the Pakistani Textile and Fashion Industries – from design houses and textile firms to daily wage artisans and, retail stores; in a future mired in uncertainty.
Further objectives of 'Catwalk Cares' Season 2 include raising funds for scholarships at Pakistan's leading Fashion institutes and schools and to keep the fashion industry united and thriving with the creation of online content to encourage the "business of fashion and creating fresh opportunities within the industry.
Apart from the design showcases themselves, additional online content during the Visual Fashion Show Season 2 include Webinar sessions with fashion designers discussing upcoming fashion trends as well as interviews with consumers, franchise, retail brand owners, E-commerce specialists and fashion design students discussing the topic of 'Fashion Sustainability' within their sphere of experience and expertise. To end note there will also be a Designer Diary session which will include behind-the-scenes intimate interviews with designer work teams who work hard to help keep fashion alive.
With the roster of design participants still growing and slated to reach 15 fashion design houses and local and international brands, the initial confirmed design houses, and brand includes; AIFD's graduated class of 2020 in Fashion Designing; NILOFER SHAHID, ZAINAB CHOTTANI, YBQ SADAF MALATERRE; SHAMSHA HASHWANI; UMAR SAYEED & ROZINA MUNIB, & to name a few.
Says Frieha Altaf, CEO of Catwalk Event Management & Productions about 'Catwalk Cares Season 2: "It's about unity for me. The Fashion Industry employees thousands, we need to sustain jobs. We need to provide scholarships to needy fashion students to showcase design and excellence. A United Fashion Front is about inclusivity, where the industry is united. I feel that change is inevitable, and history is being made."