Fashion Pakistan Week had made a brilliant start with Shamaeel Ansari's designs and on the third day, it ended on a glorious note thanks to another solo show, by Sana Safinaz.
However, a great beginning and ending still doesn't excuse the mediocrity that was consistently seen in between. The third and final day did feature some good fashion but why does the best always have to be saved for the last? Why can't fashion week overall feature good design rather than be dominated by indistinguishable, uninspiring clothes?
Keeping this in mind, one wonders if the way forward for FPW would be to break further away from the multi-designer format and string together a number of solo shows. This may mean fewer designers on the catwalk but it could mean better design. Solo shows helmed by bona fide designers – even a handful of them – may manage to drag the fashion week out from the generic waters that it seems to be sinking into.
Zoning in on the third day, some great design broke through onto the catwalk, hinting at the silver lining glinting resiliently within the dark, dreary, unimpressive cloud looming upon local fashion…
Tena Durrani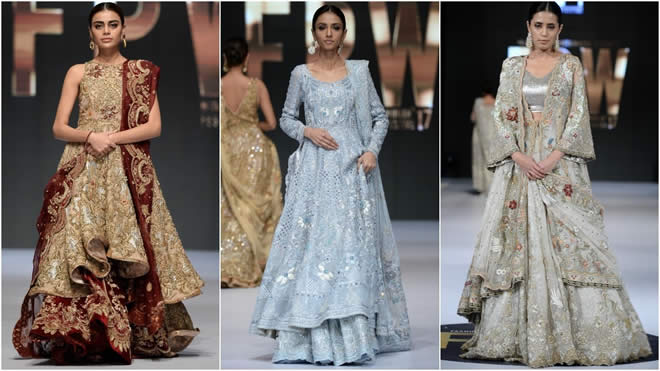 One has to give credit to Tena Durrani for creating beautiful wedding-wear that is bound to entrance a multitude of brides-to-be. Her clothes – drifting from quintessential red and golds to champagne and light blues – were extensively worked with heavy but tasteful embroideries. 'The Platinum Series' will indubitably be a wedding-wear hit.
Nauman Arfeen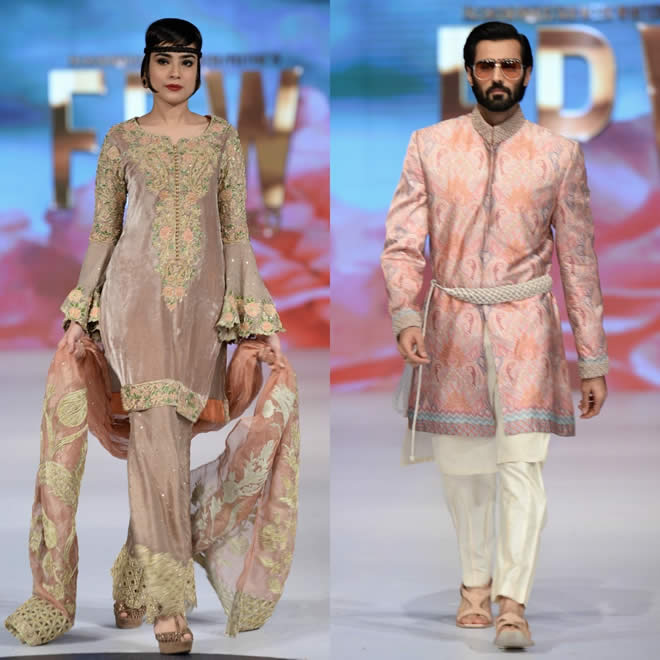 Nauman Arfeen's 'Carnation' was quite hit and miss.
The sherwanis in off-whites and creams were well-tailored but then came the strangely belted coats and waistcoats. The womenswear came worked with pretty embellishments but offered nothing beyond market-friendly design.
What stood out in the collection was the peach and pink palette worked very well into menswear but there needed to be more oomph to the line.
Saira Shakira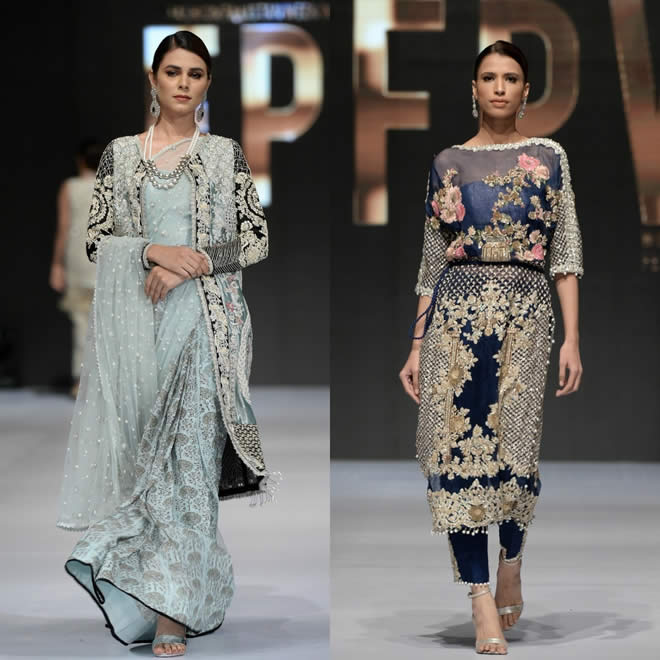 Saira Shakira have always had a penchant for working embellishment onto contemporary cuts and with time, it is something that they're doing increasingly well.
The usual bridal embellishments were implemented into design in interesting ways: jeweled necklines, long tassels swaying from hems, slightly A-lined fully worked frock-like tunics, off-shoulders, one shoulders and long shirts belted at the waist.
It's good to see Saira Shakira stay true to their modern signature. Far too many young brands latch onto a new aesthetic every season, never really developing an identity of their own. Perhaps finer embellishments could help up the ante for the designer duo's wedding-wear but should they continue along present lines, they could become labels to watch out for.
Adnan Pardesy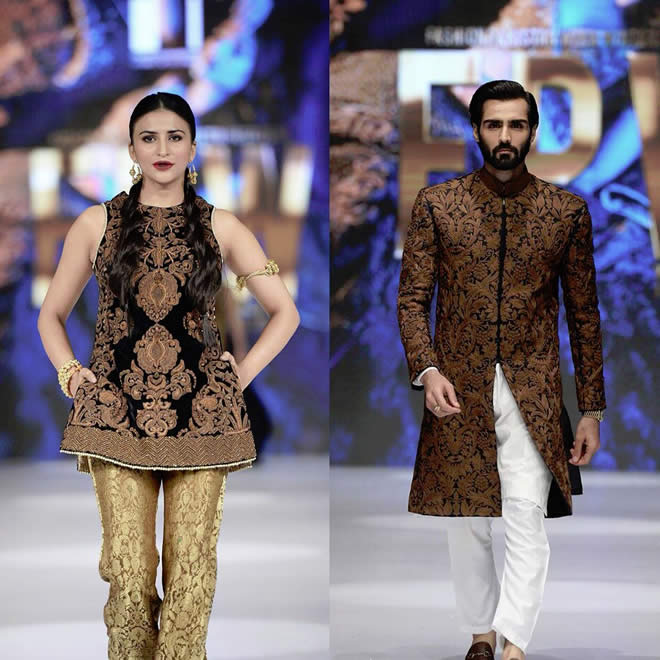 Adnan Pardesy pushed wedding-wear right out of its pretty but mundane rut towards a bold autumnal palette of black, beige and navy blue, glinting here and there with gold.
As always, craftsmanship took centre stage with minute threadwork wound into patterns that were starkly different from the usual staid florals that tend to infuse wedding-wear. The collection also had a few designs following a lighter palette – perhaps in an effort to appease the more conventional client. But even these designs bore the Adnan Pardesy touch – single toned and embellished with myriad techniques.
Maheen Khan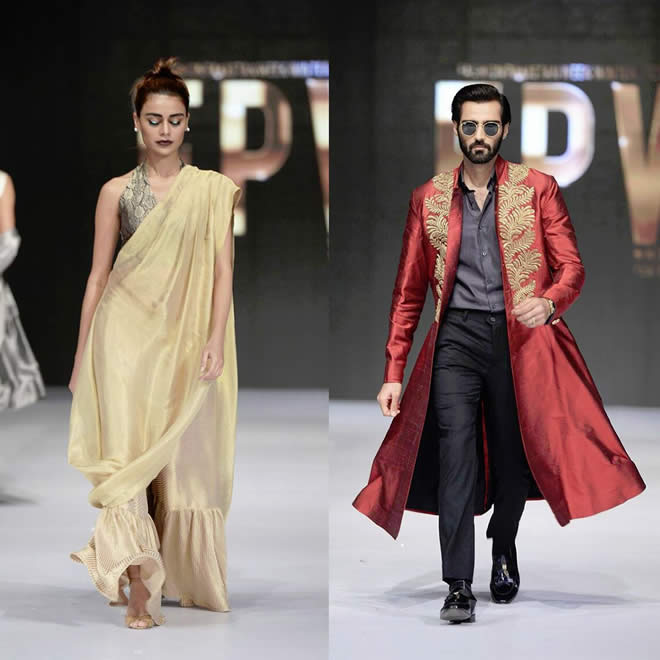 Maheen Khan's show reminded one of what fun fashion used to be; how it used to groove to an artistic beat and pushed the envelope. It was also a welcome break from wedding-wear galore which is really what the 'Winter Festive' theme tends to boil down to.
Slinky, fierce and absolutely tongue-in-cheek, the designer's 'The Lion and the Muse' teased silks and satins into swanky gharara pants, shalwars, wraps and risque, well-cut off-shoulder tunics.
Sana Safinaz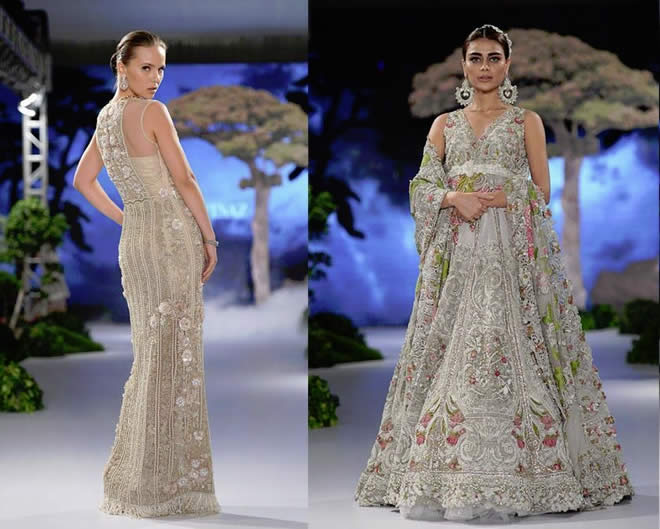 And then came FPW's parting present; a solo show by Sana Safinaz, organised in a separate marquee a few paces away from the main show location and showcasing more than 50 outfits. From the catwalk, transformed into an enchanted forest, to the designs themselves, the show entranced, taking one back to Sana Safinaz's solo outings of yore.
These were the designs that had once been the designer duo's claim to fame at one time, the designs that we don't see much of anymore. 'Roses & Rue' defined bridal-wear for the modern bride but while each design made a statement, it also maintained an exquisite feminine signature. Every bride, after all, wants to look beautiful and the best designers keep this in mind even while experimenting.
Source:Dawn