The Pakistan Fashion Design Council in collaboration with Sunsilk presented the third day of the ninth PFDC Sunsilk Fashion Week. Indeed the 9th PFDC Sunsilk Fashion Week marks the fourteenth fashion week platform initiated by the Pakistan Fashion Design Council [with eight weeks of prêt-à-porter and five of bridal fashion] and is a direct manifestation of the Council's commitment to sustainability and discipline within the business of fashion and the facilitation of Pakistan's retail industry. Indeed #PSFW16 endeavours to define and present trends for 2016, focusing specifically on fashion for the regions' long hot summer months.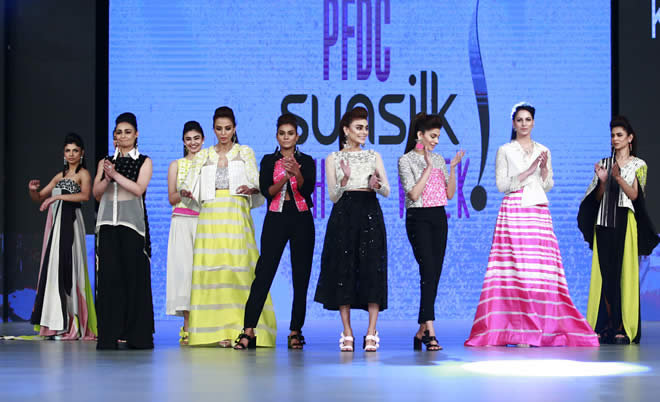 Day-3 marked the first day of the afternoon High-Street fashion shows featuring Hang Ten, DSS, Umer Iftikhar and Denizen and designer prét-a-porter shows by Khaadi Khaas, The House of Kamiar Rokni, Zonia Anwaar, Saira*Shakira, Zara Shahjahan and HSY later in the evening.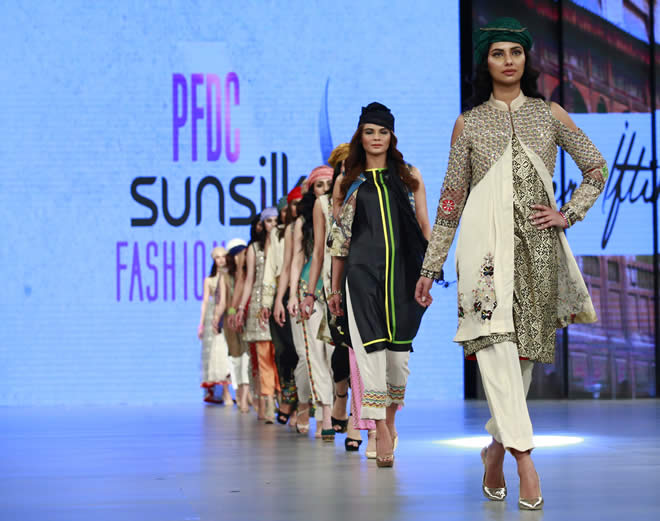 The success of PFDC Sunsilk Fashion Week continues to prompt private sector associates to grow in their engagement of the platform to launch new products, marketing campaigns and promotional activities sharing a common vision with the PFDC to develop and promote Pakistan's fashion industry. In this same spirit, in addition to their title sponsor Sunsilk, this year the PFDC welcomes global giants Huawei as official technology partner and Pepsi Co as official beverage partners, Careem as official transportation partners, Borjan as official footwear partner and green room hosts and Pakistan's premiere Travel and lifestyle magazine Destinations as the official PFDC's Man on the Scene Partner. In continuation of their support for the platform Bank Alfalah continues as the Official Banking Partners and patrons of the rising talent showcase.
The PFDC Sunsilk Fashion Week 2016 team comprises of HSY as the event producer and show choreographer with Nabila N Pro/NGENTs as official stylists, front stage management by Maheen Kardar Ali and the PIFD student team, backstage management by Product 021 and the PIFD student team, logistics by Brandlogics, event consultancy by Eleventh Experience, Digital Agency Pakka Papita, PFDC's official spokesperson Kamiar Rokni, official red carpet host Rehan Babar, The PFDC Destinations Man on the Scene RJ Khalid Malik, photography by Faisal Farooqui and the team at Dragonfly, Hum TV as official media partners, CityFM89 as the Official Radio Partners with all media management by Lotus Client Management & Public Relations.