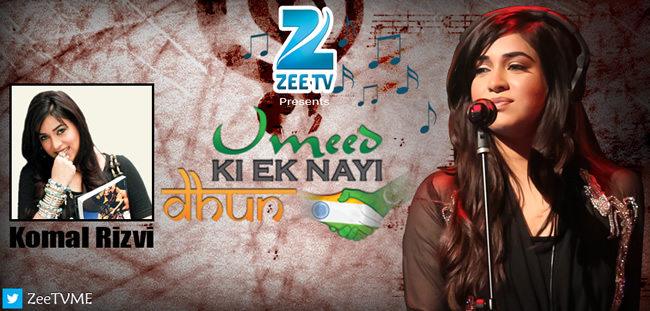 Komal Rizvi is one singer who has truly represented Pakistan on a global platform and mesmerized audiences with her strong vocals. From being the first Pakistani VJ featured on an Indian channel, to singing the super hit OST for Indian soap Madhubala, Komal has always made Pakistan's name shine wherever she has gone. Hence it is no surprise that she was chosen to perform at Umeed Ki Nayi Dhun, a special TV show being organized by The Zee Network Middle East to promote peace and friendship between India and Pakistan on March 5th, 2014 at Sheikh Rashid Auditorium, Dubai.
The concert will feature performances from leading artists of both countries. Komal Rizvi will be singing Chahiye, Yehi Pyar Hai, Jhoolay Lal from her 2013 album and Kalli Kalli her new upcoming release. She will also be performing her Coke Studio songs in newly styled renditions and some odd numbers mixed and matched by Abida Parveen, Nusrat Fateh Ali Khan, and Reshma. Besides Komal Rizvi, Ali Zafar will be performing with Yami Gautam, his co-star from his upcoming film Total Siyappa which is also a love story about a boy from Pakistan and girl from India. Leading playback singer Javed Ali, and several participants of Sa Re Ga Ma Pa including Jasraj Joshi, Azmat Hussain and Arshpreet Kaur will also be performing. The show will be hosted by poet, TV host and comedian Shailesh Lodha.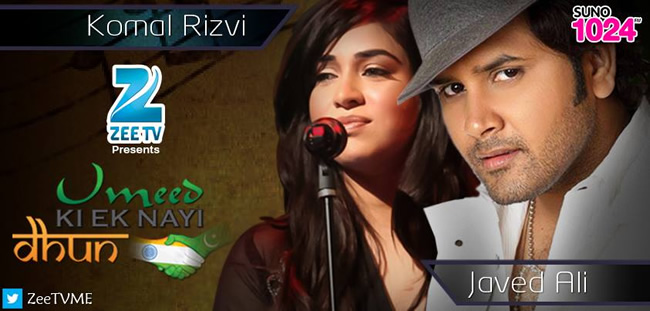 Speaking about being invited to this event to perform, Komal said "This concert is graciously hosted by Zee TV to promote peace and show unity and harmony between India and Pakistan. There are many external forces out there that believe in dividing and conquering our beautiful two nations that were once one. I sincerely believe that only good can come out of uniting these two highly talented and resourceful countries".