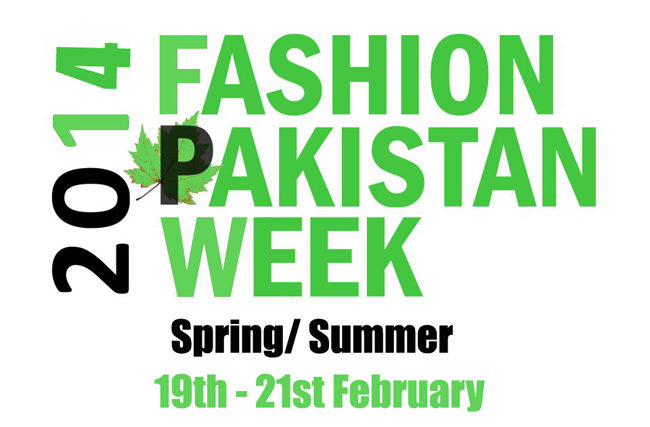 The Fashion Pakistan Council is pleased to announce the official list of fashion designers, labels and brands participating in Fashion Pakistan Week Spring/Summer 2014, scheduled for 19th to 21st February 2014 in Karachi.
The sixth edition of Fashion Pakistan Week will showcase spring/summer collections from 24 mainstream and upcoming designers including retailers who will be featured in eight fashion-packed shows daily over the course of the three-day event. These include Maheen Khan, Shamaeel Ansari, Nomi Ansari, Hassan Sheheryar Yasin, Deepak Perwani, Fahd Hussayn, Faraz Manan, Amna Aqeel, Jafferjees, Gul Ahmad, Adnan Perdesi, Zainab Chottani, Tapu Javeri, Kamiar Rokni, Maheen Hussain, Nida Azwer, Ali Xeeshan and many more.
FPW Spring/Summer 2014 will also celebrate the achievements of participating fashion talent through three illustrious awards. Member designers of the Council will judge Pakistani fashion talent and award them during the show as per the following categories:
The Emerging Talent Award (to recognise the efforts of up-and-coming fashion talent)

The Diamond Designer award (to celebrate the life-time contributions of a designer to Pakistan's fashion industry for over a period of 18-20 years.)

The Best Collection Award which will be based on voting done via the Council's Facebook page.
The media partner of Fashion Pakistan Week Spring/Summer 2014 is HUM Network Ltd. It is being choreographed by HSY & Productions with back stage management by Production [021] & show production by CKO. Tapu Javeri has been engaged for all official photography for the event while PR of the event has been undertaken by the PR department of HUM Network Ltd.
Speaking about FPW Spring/Summer 2014, Sanam Chaudhri, Chairperson Fashion Pakistan Council said "We at Fashion Pakistan are very excited about FPW Spring/Summer 2014. As promised, FP has focused on bringing forth new talent, retail brands and designers from Lahore and Karachi on one solid platform. We strive to encourage the new generation of talent along with the gurus and retail bigwigs of Pakistan to promote the business of fashion.
"Expressing his pleasure at partnering with FPW, Duraid Qureshi, CEO HUM Network Ltd said; "HUM Network has been the media partner of FPW since 2009 and it gives me immense happiness to see this platform growing from strength to strength. Since we are avidly viewed the world over, I am confident that together we will be able to take the brand internationally to unprecedented heights."