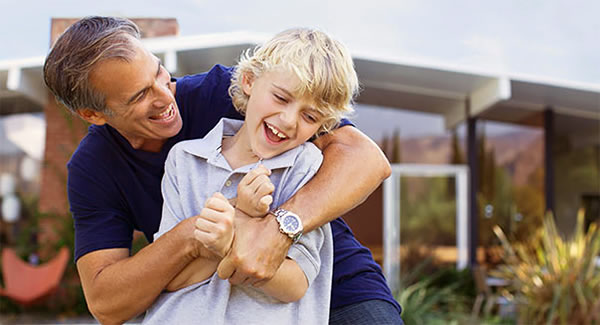 Father's day is a special day for all the fathers of the world. This special day is celebrated on the third Sunday of June every year.  The exact date of the father's day is 16th of June. It is one of that special which is celebrated to honor all the father's of the world. Every day is a father's day for us as we express feelings and take care of our father's every day and we as a child are always there for them.
When a special event is celebrated, there is some history behind it. So let's talk about the history of father's day that's how it started and by who started it. In 1910, Sonora Dodd has founded this day and she wanted to celebrated it on 16th June because this date was very near to her father's birthday. Her father was a single parent and professionally he was in the Army. Till she was in school she celebrated this day but after a while when she was in university she never celebrated it.  Later on other girls started celebrating this day for their father's.
In Pakistan there was a time when people were least bothered about celebrating all the special days such as Mother's day, Father's day and valentine's day but now the media has changed everything and everyone is celebrating these days with much zeal.  Father's day is also a  very special day for the Pakistanis. Children are much aware of the media about the importance and celebration of this day. In Pakistan children's love to celebrate these days for their loved one like father's and mother's.
In Pakistan, the culture and values are according to the religion. The culture here is that father is the only men who works whole day for his children's.  This is the norm of our society that only the father is earning and everyone else are just eating, his burden is not shared by his children unless and unless they are highly educated and have some skills to earn.  At the end of the day whatever the father is earning he makes sure that his children's are getting everything they need, he wants that his children get the best education, he does it as a responsibility but the children should give something in return.
Father's day is one of the day which is celebrated to show love, care, respect to the father.  The gift is a sort of gesture to show all the feelings the man who is always there for his children.  The father's day gift is a way to show love and care towards the father and the gift is actually nothing but it means a lot to the father. It is actually the return of all he is doing for the children.
The relation of father is not a kind of social relation it is a biological one and it is a very strong one too.  For Pakistanis every day is the father's day, every day we see our father, we hug them and we pray for them. The love for the father's is natural. The bond between the father and his children is forever and the father is the only men on the earth who you can trust.
If we talk about father's day gift than it can be a tie, a perfume, watch anything which is like the father. If he is older than some cap or a muffler is a good gift.  You can also give surprise to your father on the special day by taking him out to dinner and also get a cake for him and do write that something about it.