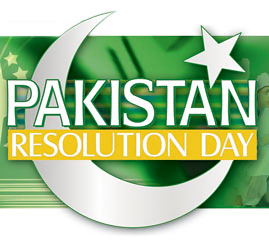 Pakistan day is celebrated ever year on 23rd march with immense enthusiasm to commemorate and applaud the achievement of the hard working leaders for passing the great Pakistan Resolution on 23rd March 1940.
It was on 23rd March that the goal of achieving a separate homeland for Muslims was announced formally for the first time.
Though Sir Syed Ahmed Khan presented his two nation theory, reflecting his suggestion for a separate country a century earlier but the father of the nation, Jinnah never thought on the same grounds.
It was not until 23rd March 1940 that every leader united and came to one agreement to get Pakistan. On 23rd March 1940 at Minar-e-Pakistan Allama Iqbal, in front of thousands of supporters laid the foundation of our beloved country Pakistan. He stated that the Muslim majority areas including Kashmir should be united to form Pakistan. Hence this day is a milestone in the history of sub continent.
A separate homeland for Muslims meant a place where Muslims can practice their customs and traditions, where they can be safe and prosperous, where they can flourish, become educated and responsible and become a productive part of the world. But have we been able to accomplish what our leaders aimed for us?  There is no doubt that Pakistan and Pakistanis have huge potential to flourish but this potential is often not realized. Therefore the importance of Pakistan Day should be known to every Pakistani. 23rd March's achievement should be remembered to realize our potentials. We have inherited courage and talent and we should work hard to show the world that we can do anything.
23rd March is celebrated by arranging a number of conferences and rallies. This day cultural events take place too. Debates take place and leaders speak in front of youth to tell them about the important historical event that took place half a century ago. By remembering this day we remember what our leaders expected from us and we boost our energies. 23rd March's achievement reflects that when Muslims are determined to achieve a goal they work hard day and night without any resistance. They put in their best and they can do anything they wish. Hence the remembrance of 23rd March is important to know what we are born to do- to show the world that we can make a difference.