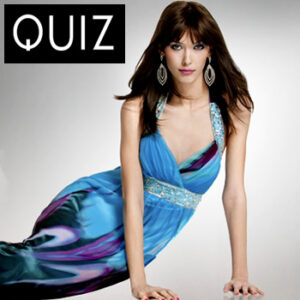 Quiz Clothing, a leading UK supplier of stylish ladies' clothing announces the opening of their 150th store worldwide, at the Mall of Lahore on the 25th of July 2011.
The Mall of Lahore is the city's largest shopping centre located in the heart of the city. The large complex contains over 100 shops and major department stores, and is the most frequented shopping resort. Quiz Clothing are delighted with the opportunity to increase the prevalence of the Quiz Clothing brand across the city, and to complement their store at the Vogue Towers MM Alam Road Lahore.
The latest on-trend collection from the company, which has been providing fashions since 1993, includes chic black, white and silver ensembles and accessories, as well as more neutral and pastel tones to create contrast and colour. Casual daytime outfits are largely made up of neutral and pale blouses, scarves, cardigans, and fashion jeans; in contrast to a collection of brightly-coloured trainers and American-style, lace-up sneakers.
With trends predominantly including vintage chic and trendy casual wear, shoppers can peruse a range of going out dresses, shrugs and baleros, earrings and necklaces, handbags and clutches, jeans and trousers, leggings and tights and a host of trainers, high heels and casual-wear shoes – both online and in Quiz Clothing's 100 plus stores across the UK and 50 plus in Europe, Middle East and now in Pakistan.
 "We are incredibly excited about the new Store at the Mall of Lahore" commented Aftab Arshad of Quiz Clothing. "Because of the busy centre which offers such a pleasurable shopping experience, we trust that our presence in this facility will prove beneficial in increasing awareness of Quiz Clothing, and help our company to earn more valuable repeat business".