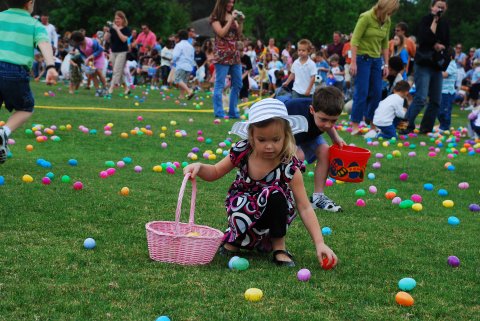 The holy mornings of Good Friday and Easter aim to share great joys, blessings, spiritual peace and love to celebrate resurrection of Jesus Christ. The cheerful celebrations ideas of Easter are a guideline to pass your day blissfully.
Cheerful Easter celebration ideas given here are totally inspiring and fun making. To make your Easter more jovial read them below.
Easter eggs and Easter bunny are festive gifts of Easters as they symbolize a new life. Children share the joys and happiness of Easter by exchanging beautifully painted Easter eggs that they love to do so. So, kids get ready to dye and decorate Easter eggs.
You only need to buy some paints, glitter, craft glue and beads. First dye Easter eggs and then paint them in best way. Decorate with beads and share with your loved ones.
Easter basket is real fun package for Easter as it is main part of it. Go for variety of gifts that you can craft at home with available stuff, design Easter eggs and beautifully adorn some candies. Arrange them all in basket carefully. Also take some Easter Lilly flowers and decorate them inside basket. The Easter basket you present your friends in such a reflexive way makes then happy.
Fun making ideas for Easter
Easter celebrations go well when some fun making activities are there. Let's play Easter egg hunt. Hide Easter eggs in ground or in Easter basket and let your friends find them. This fun activity really makes your Easter.
Easter brings lot of delicious and tempting meal. Either it's hot cross bun, cake, or chocolates everyone loves to eat at this holy day. Plan some Easter meal cooking session with your friends and prepare Easter meal yourself.
Easter wishes for your loved ones
The major and spiritual part of Easter is to wish your friends, pals and family members. Wish them all great joys, long life and blessings for rest of life.