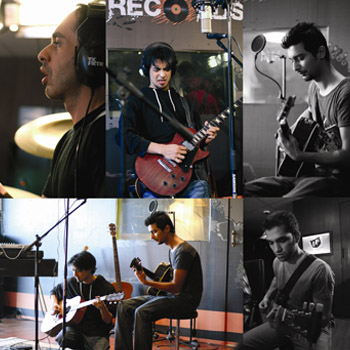 Ufone's exciting televised youth music platform, Uth Records, is all set to go on air nationwide starting 18th February 2011, debuting with their first Uth music selection, Karachi based rock band Jumbo Jutt.
Indeed as introduced in late January 2011 Uth Records is based on the acknowledgment that our country has an abundance of musical talent, but due to a dearth of avenues, such talent usually receives little recognition or opportunity to break into the industry, thereby stifling the potential a new generation of music can bring.  Through this televised platform and as illustrated by the first chosen artists Jumbo Jutt, Uth Records endeavours to show how talented young musicians can thrive in a professional music environment where one of their original compositions is refined through Uth Records' in a specialised recording studio with some of Pakistan's most gifted musicians guiding younger talent.Jumbo Jutt itself is an underground band comprising of vocalist Mohammad Ali Suhail, bassist Syed Saad Shams, drummer Adeel Hussain and guitarist Omar Kapadia. In addition to Uth Records' resident producers Gumby and Omran Shafique, this first session will also feature top Pakistani guitarist Faraz Anwar as a guest musician on the bands self titled song, 'Jumbo Jutt'. Expect rock and metal built on distorted and chorused guitars from the band along with a visual insight into the process of how all the musical elements merge together to complete one song.
Speaking about their work with Jumbo Jutt, producers of the project, Gumby and Omran Shafique of LJP Studios have said "The band's performance was a lot of fun, especially since this genre of music is what Omran and I both started out with ourselves. They [Jumbo Jutt] walked in quite confident with the right attitude and approach. We really appreciated the arrangements and lyrical content for the song. Their performance was high energy and we think that both the song and performance will speak for itself."
Mohammad Omer, Head of Marketing Operations & Brand Activation Ufone has said "The enthusiasm and response so far from Pakistan's aspiring Uth talent has been heartening. We are exciting to now be on air and to introduce Jumbo Jutt as our debut artists as their journey and story is a manifestation of what Uth Records stands for, bringing talent out of the shadows and into the limelight. We look forward to airing a new episode weekly."
Directed by Zeeshan Parwez, Uth Records will be airing on ARY Digital, HUM TV, Oxygen, TV One, PTV, Dawn, ATV and G Kaboom starting 18th February. The Uth Records show will air a new session every week culminating on the 25th of March 2011.