Hijab is beco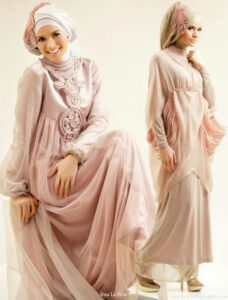 ming an elegant fashion for Pakistani women who love to engulf their torso in hijab. But hijab not at all means to clad over burdening clothe around thus latest hijab trends in Pakistan aim both purposes of beauty and style.
Right of Muslim women independence is well served through hijab and hijab is the only clothing that bestows a protective sheath and style to women altogether. So you don't need to step out in black shaft always yet you have latest hijab trends in Pakistan to ease multipurpose clothing i.e. both functional and casual.
Amongst many renowned Pakistani fashion designers is the model turned fashion designer Atiya Khan who blissfully designs beautiful hijabs for Pakistani women and adds glamor to their persona. She designs simple yet captivating hijab for young girls and women and strives to bring forth latest hijab trends in Pakistan to ensure Muslim women dignity with style.
The hijab designer Atiya Khan has revived latest hijab trends in Pakistan through colorful hijab attires, gowns, burqas, abayas, scarves and head coverings. Not only hijab colors but hijab prints and hijab designs are also versatile making Pakistani women note worthy and beautiful.
Latest hijab trends in Pakistan contain colorful embellished hijabs where embellishment on hijabs is done with sequins, traditional sitara, kora and dabka work, glittery lace and thread embroidery. Functional hijab are precious and costly with special real gem stones, pearls, crystals and bead work whereas casual hijab is almost embroidered with satin threads.
Latest hijab colors include jade, lime pulp, bottle green, olive, teal, aqua, royal purple, cotton candy, dark salmon, apricot, venetian red, magenta mauve and Persian indigo. The color selection for hijab is upto you but these are more trendy and latest hijab colors for Pakistani women.
Hijab dispels women subjugation and offers her liberty to move socially so when Islam ensures women right of freedom then why to bound yourself with traditional black hijab always. Look around at fashion world that take hijab creation as most challenging one and brings latest trends of hijab for women.