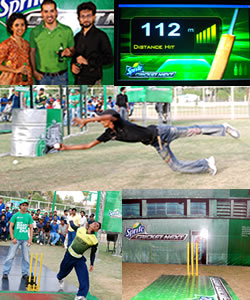 (Karachi, 23 June, 2010) Sprite proudly launched 'Sprite Cricket Next' – a technology driven sporting platform aiming to discover Pakistan's best Gulli Cricketers – at an exclusive press meet held at UBL Sports Complex in Karachi. Kicking off in Karachi, the Gulli (street) cricketing campaign will be held across seven major cities in Pakistan. Spread over the next several months, the activity will be held in different venues to promote the accessibility and inclusivity of this new platform.
'Gulli Cricket' or 'Street Cricket' has long resonated with Pakistanis, irrespective of age, background and ethnicity and is often regarded as Pakistan's true form of cricket. Sprite has always felt there exists a spark in every person who plays in the streets of Pakistan to be the best in the sport and with Sprite Cricket Next, it aims to discover and reveal this talent by providing these players with the opportunity to test their skills on a platform which till date was only accessible to professional players. The result is a truly unforgettable cricketing experience.
Expressing his views about the launch of this exciting new sporting platform, Rizwan U. Khan, Country Manager, The Coca-Cola Export Corporation, Pakistan & Afghanistan said that, "Gulli Cricket, in particular, is a form of cricket that is often neither recognized nor supported despite being the most played. With Sprite Cricket Next's technology-infused version of the sport, we are giving the raw talent present in neighborhoods, schools  and grounds  across Pakistan an opportunity to showcase their  skills."
Fusing state-of-the-art cricketing technology 'Pitch Vision'*, with raw talent, Sprite Cricket Next endeavors to discover and encourage Pakistan's unsung cricketing heroes to embrace their talent. All participants will be able to measure their bowling speed, determine their batting sensibilities and style, and generate statistics such as the fastest ball, average score per over, wagon wheels, pitch maps and longest six struck. This campaign will culminate in a finale, at which the best Sprite Cricket Next players across Pakistan will be able to showcase their skills.
Yet another initiative undertaken by Coca-Cola to promote an active healthy lifestyle and a sense of community, Sprite Cricket Next aims to make a positive difference to cricket in Pakistan by taking a fresh, dynamic and sustainable approach to the sport by promoting and encouraging Pakistan's potentially undiscovered cricketing heroes. It is through initiatives such as these that Coca-Cola lives upto its Live Positively philosophy.