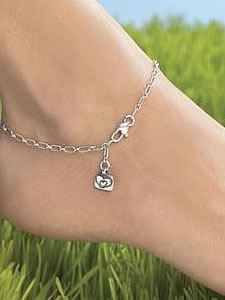 When it comes to jewellery, Indo Pak subcontinent has witnessed the beauty of woman in many ways. Popularly known as anklets, payal, or paazaib is worn around the ankle and it also reflects our culture. It is an important part of our formal wear and available in different colours, styles and sizes.
Anklets are an important part of ornamentation and also carries important social significance. Anklets form a must part of Pakistani jewellery. From beaded to highly ornamental ones, you will find anklet jewellery in various formats. Young girls and newly wedded brides love to wear it on all occasions. Mostly, Pakistani married women prefer to wear payal made of silver, as the gold one carries a bad omen but can be worn at any other time.
The jangle of this jewellery carries soft musical sounds which are associated with romantic and traditional roots. Lollywood and Bollywood movies are filled with heroines dancing and showing their heavily decorated anklets in style and hero getting crazy just by the lovely sound of it. This Pakistani jewellery has inspired women authentically and compliment a woman's feet.
Many married South Asian ladies wear anklets regularly. This jewellery goes very well with sarees, lehengas, ghagaras as well as salwar kameez outfits. You can choose this jewellery depending upon the colour of the outfit. The classiest Pakistani jewellery manufacturers are based in Hyderabad, Multan and Bhawalpur. Their trendy designs are classic and timeless.
Inspirational and traditional anklets have their roots in classical dancing also. Classical dancers of ancient times used to wear heavy anklet Pakistani jewellery as part of their outfits. The ghunghroos on these anklets make a sound which provides rhythm while dancing.
Nowadays, there are many different styles and designs, to choose from heavy to delicate ones. From the traditional and rather delicate silver and gold chains, this jewellery is developed into beautiful threaded and beaded versions in wood, crystals, semi-precious stones and seashells.
The modern anklets are not heavy as they are designed for the fashion conscious Pakistani women. Sometimes there is a fine meena work and beads exquisitely set to allure a woman's feet. You can even wear such an anklet on a daily basis as it matches with most outfits and colours.
For summers, colourful jewellery pieces in turquoise blue to exotic olive green, deep jewel tones of maroon and plum shades to lacy designs are in.
This Pakistani jewellery allures the lady with its sound only. Happy wearing!