Cards and flowers is a beautiful combination as someone's beautiful feelings. When these two are combined they effectively express someone's deep emotions and feelings.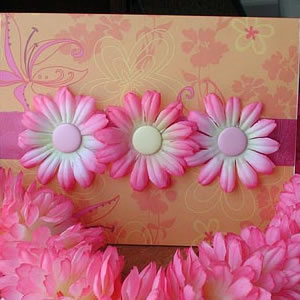 Card convey messages ,thinking, and point of view of someone, which he/she wants to say to his/her loved one, friends and family, but they can't express them face-to-face.
So, then cards become the "medium of expression". In this way we can easily understand the feelings of sender.
IN the market, cards for all occasions and matters, for every person are easily available. Like besides common birthday, sorry and thank you, cards for congratulations, success and even cards about 'just to say hello' or 'to in touch with you' can also more beautify tour life. Also cards for special occasions like Valentine's Day, mother's day, charismas day, Eid day etc always comes with a bloom.
Wishes written on these cards always appear as very touchy and wonderful sayings, for birthday a wish on a card may be expressed as
A BIRTHDAY IS A NEW DAWN
BREAKING OVER THE HORIZEN
OF YOUR LIFE.
Colors of cards are also play with one's emotions/sentiments with light, dark and multi shades colors. Light colors cards gives soft look and dark color cards gives bright look. Cards depict your affiliation with other person as it also represents your mood and choice. Giving card is decent way to express you and to gain somebody's attentions. The biggest advantage of this beautiful presentation is that one can keep it with him throughout of his life'. Whenever he/she would see that card which he has received some time ago, he feels pleasure. So, we can say that it is long lasting present. You can also judge that cards developed a good cordial relationship between two persons just because of those words that were written on card.
Thus cards have their own language, their own world.
And I will make these beds of roses,
And a thousands fragrant poises.
Flower also play very vital role in expressing one's sentiments. Actually different colors of flowers represent different feelings. For example, a red rose or red flowers represent great happiness and joy, as it is consider as sign of love. White flowers represents peace and yellow flowers represents disliking etc. so, they can also be the source of expression". They can "bind people together" they help to bring people closer. Flowers also look very charming and beautiful, especially fresh flowers always with their mind-blowing fragrance make one's mood better and mind more understandable. The receiver of flowers always feels honored with a great joy that he is receiving such a precious and delicate gift.
In the markets you see lots of flowers shops making best of them. You must convey smile to them and your mood automatically become well.
Even if you are in tension you feel yourself light and relax after looking at those shops. Flowers are also adds a delicate touch in your life and mostly people like them, to have with them or to give anybody else.
When these two HART TOUCHING items combine together they provide you a lovely and strong platform to one's deep emotions and feelings to pass through. These two can create great changes in someone's life. When one comes to know of the thinking and regarding of other person about him/her, which he/she does not know before, he may judge something from it or may be predict something?
When we talk about the combination of cards and flowers, some people take them as one gift. Because they think that instead of spending their money on other material things, this combination is the better option as it can make a difference. Most of the people also got the idea about the colors scheming of these two.
They match the card color with color of the flowers, and then it looks touchier. Like when somebody is going to express his great love and affection with other person. He prefer cherry red flower with shade of red color. When somebody is going to express his colorful and charming friendship and sincerity as friend or as well wisher, he prefers multi shaded flowers with same colors of card. Similarly somebody is going to present this combination as gift to his/her mother on mother's day, he prefer light and soft colors etc. So psychology behind giving this combination as gift is to represent one's own psychology.
This is a reason that this combination is really very popular all over the world. It is gaining more and more popularity day by day, not only among the youngsters but also among the people of all ages. You also have noticed that this was not very "inn" many years ago, but with the passage of time people learn to communicate through different and new way. Now everybody has learned this art of transferring his true feelings and emotions easily and it is becoming a trend. As this touching combination or the medium of expression has NO REPLACEMENT.
Say with words.