Dresses are great for a variety of occasions, in addition to dressing you super well, will enhance you and show your most beautiful features. Popilush is a shapewear dress store and also shapewear that help you in everyday use. It has a huge variety of products and also presents us with an incredible possibility of looks along with well-being and beauty.
The long dresses that are for all occasions
Dressing well and feeling good is a super important factor for a person's self-esteem, so long dresses that give that more sophisticated look even for everyday life will make you look amazing and also give you a great opportunity to feel good about yourself.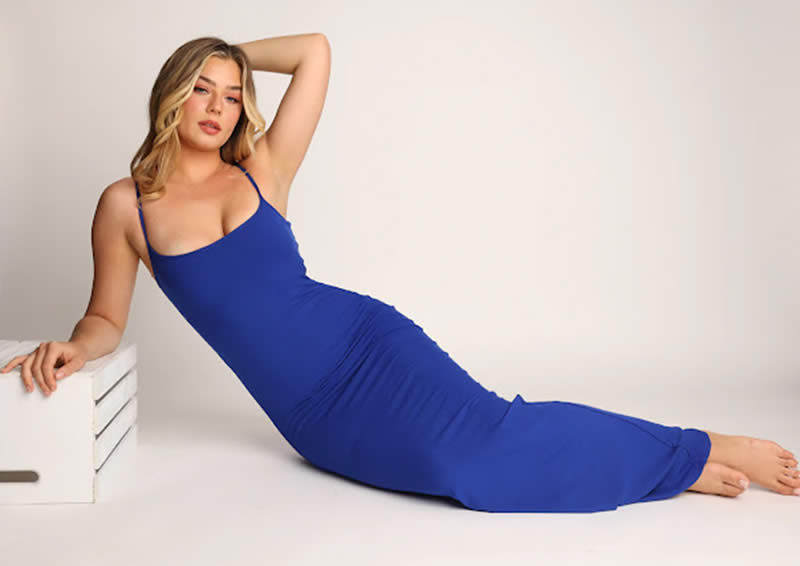 The Built-In Shapewear Slip Maxi Lounge Dress is a built in shapewear dress with thin straps that will help you compress your hips, waist and abdomen, making your body even more beautiful when wearing a dress.
I want to point out that this piece values the bust with its straighter cut and also helps with the different choices you need to make in your day to day life. I say this because it has six available colors which are: black, blue, pink, brown, gray and orange.
In addition, it is available in seven different sizes to suit different body types. It also has a built-in bra that doesn't make you uncomfortable and because it has this option you still don't have to worry about wearing other clothes underneath.
You still have the possibility to create different looks, since it is a simple dress, but it has the most varied combinations. As a tip and option, I put here that you are wearing a jacket over it and you can also combine it with the use of sneakers or even boots if you wish.
Therefore, this is an excellent piece to have in your closet and is super important if you want to create amazing looks with just one dress. Another benefit is that because it looks great with a party dress you can just add a few accessories and create the ideal party style.
The Built-In Shapewear Crew Neck Sleeveless Maxi Lounge Dress are body shaping dresses perfect for every day and that still help you define hips, waist and abs. It has a more closed collar which gives you more freedom for when you don't like necklines.
It is only available in black, but in six different sizes that will adapt to the most varied body types. It has a more chic footprint and makes us feel special at any time.
In addition, it is a pleasant piece to be wearing, as it does not squeeze you and at the same time leaves your body in a silhouette shape, which makes everything more chic and well defined, thus showing all the best you have.
This dress also has an incredible variety of options for you to create looks, because in addition to being a more basic and very usual color, it allows you to wear it with a jacket or even high heels to give it a whole lot of charm.
So, if you want another longer dress that has everything to give you incredible comfort and great looks, this is an excellent choice.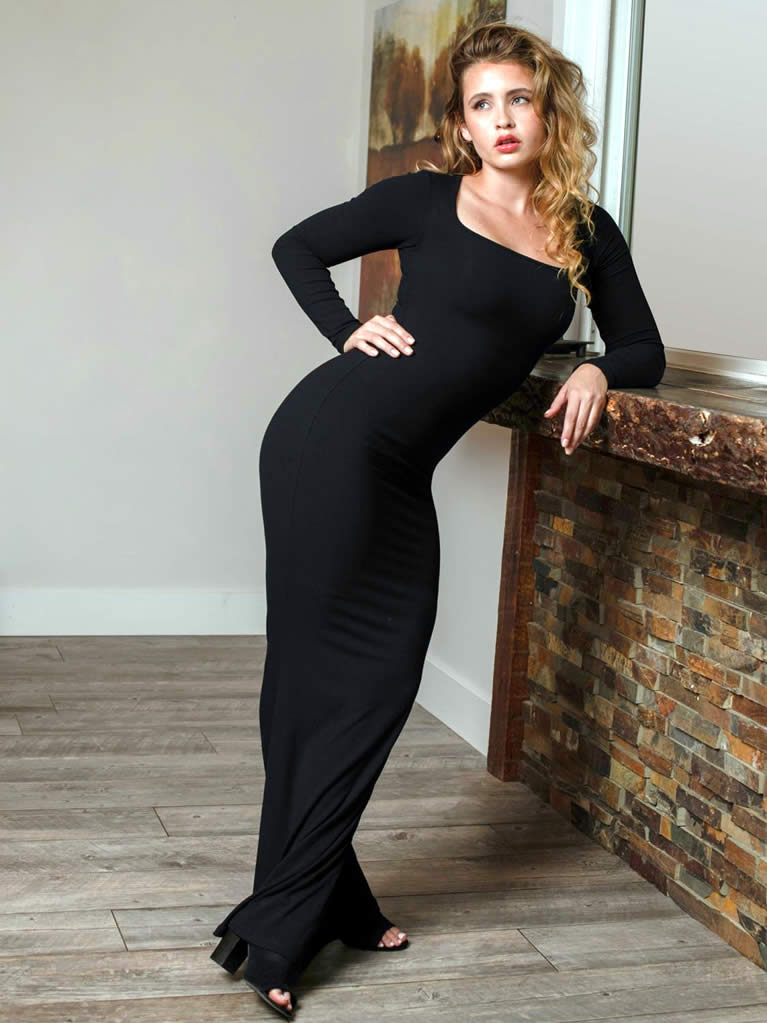 The Built-In Shapewear Long Sleeve Maxi Lounge Dress is our next ideal everyday long dress as it helps you define your hips, waist, abdomen and also your arms. Because it is more long-sleeved, it is best used in colder times.
In addition, it has a charm all around when we think of a dress that is beautiful and comfortable. It has five colors that are pink, black, gray, brown and red and is available in sizes ranging from S to 3XL.
It also has a system that helps you at the time of removal for when you need it most and therefore it is not a piece that will give you work to use. I recommend putting on some jewelry or even some more flashy accessories that will create an amazing look for this dress.
In addition, you can also use it on the hottest days, as it has a system that helps absorb moisture from the environment and thus is not unpleasant or uncomfortable for all types of use you need, whatever the seasons. of the year.
It is also super cute for a more gala party that makes your body even more beautiful and with a dress that goes well with an evening party or even a beach party.
The midi dresses that are everyone's passion and comfort
After talking about the longer dresses that are a knockout and that make everything more chic in your day, let's go to the midi dresses that are the most used in everyday life, but that are perfect for any situation you want.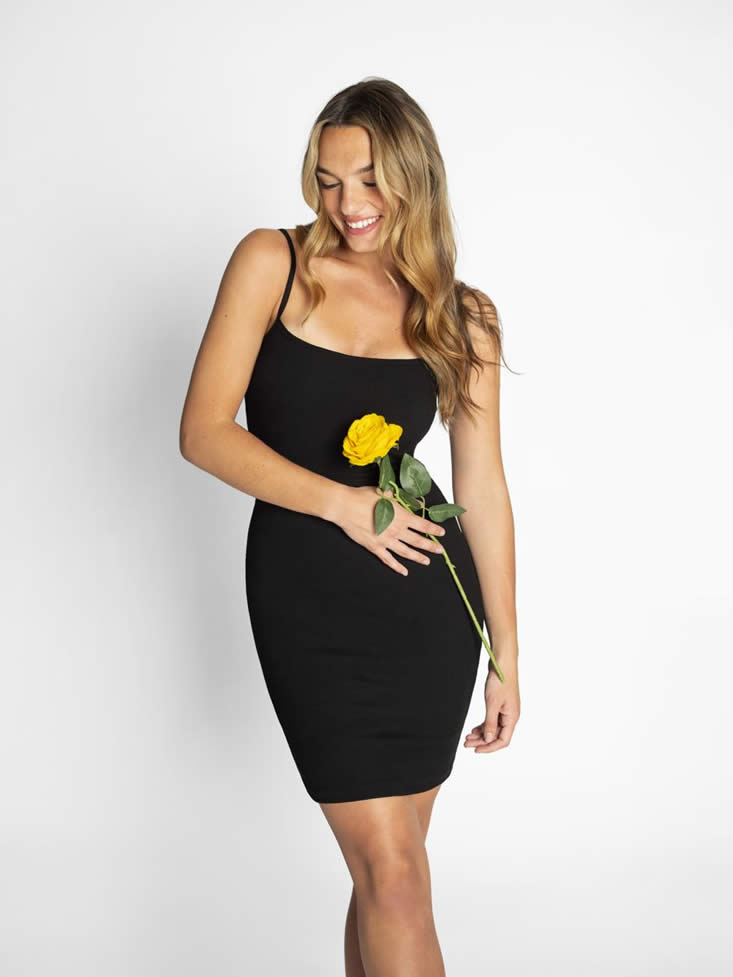 The Built-In Shapewear Modal Soft Lounge Dresses is a beautiful shapewear dress that will help you define your hips, waist and abdomen, which at the same time allows you to create several looks, as it has five colors.
You can add many other pieces with it and let the look become more casual or more festive wherever you want to go. I also want to mention here that it has other options and models that are longer, but the fabric and technology are the same.
I love this piece and I can already imagine it with a jacket on top and also with higher top sneakers that would look rock chic and that you could combine with a bag and a few accessories that would make the look even more beautiful.
It is also a piece that has a comfortable fabric as it helps absorb moisture from the environment and thus ends up leaving your body cooler and even on the hottest days it would be very soft on the skin and with a fit that all women would be delighted to have.
In addition to being a more basic piece that will help you to have a color for each event you want and make your day show what is in your heart. Therefore, it has several benefits and will not bother you when using it in your daily life.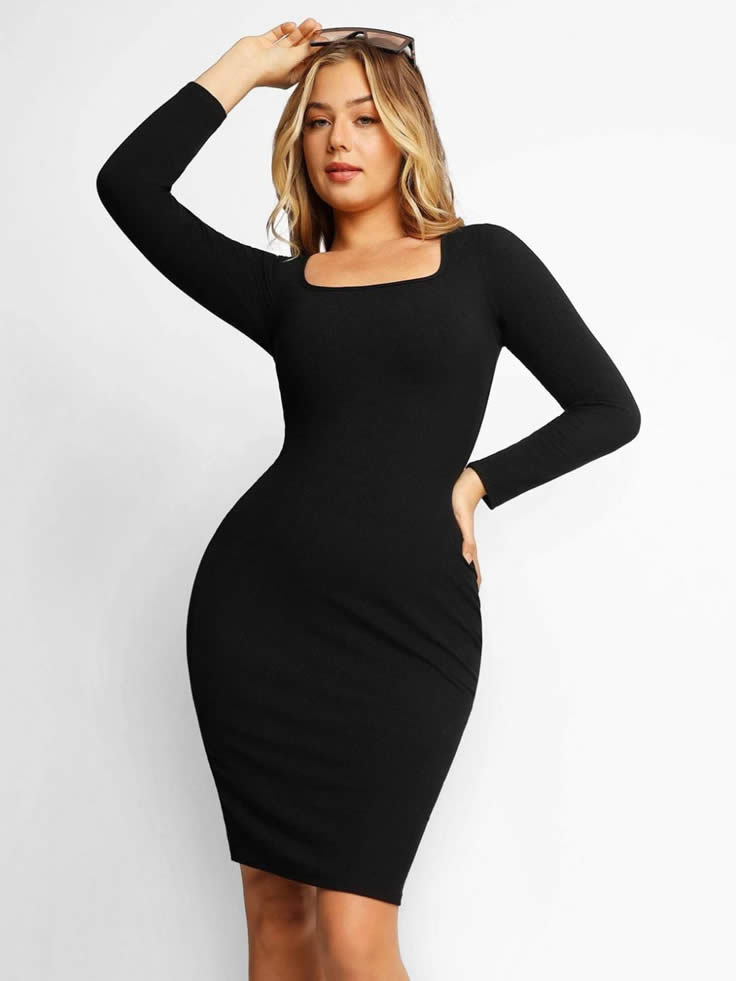 The Built-In Shapewear Long Sleeve Midi Lounge Dress is another great choice of dresses that make your body look incredible and at the same time can be worn on several occasions, even on the coldest days, as it has a longer sleeve.
It also has five available colors and seven sizes that help any body to wear something that is amazing and very adaptable. I recommend that you create looks that complement this dress, as it has a nice fabric that will help you define your hips, waist, abdomen and arms, but without compression that keeps squeezing you.
You can wear it with leggings underneath and it is also possible that you wear it without a bra since in its system it already has this type of finish that helps you to wear a type of bra and thus not be imagining that you are not wearing it.
In addition, it also has the system that assists in its removal, so if you need to remove it, it will not cause you any problems.
You can invest more in your body with the fabulous dresses from Popilush as they have great variations and will suit you all year round. They also come in different colors to help you choose the best pieces for the day. What are you waiting for, give it a try!