Don't kick yourself for oversleeping and hitting that snooze alarm too many times because now there's no time to wash that unwashed heap of greasy hair and make it look presentable – especially when you have an important meeting to attend! Boy oh boy, it's a nightmare right? But fret not, because we are here to help with 8 hacks to manage unwashed hair when you have no time to wash it.
1. Braid those locks: Could not be a best time to wear a braid during the day. Wear the classic braid, or look absolutely chic with the super easy fishtail braid. Not only are braids easy to wear and reduce the overall time of us getting dressed, they also hold better on unwashed hair as compared to freshly-washed hair. Make braids your go to hairstyle for those over cramped mornings, when you time is precious and you cannot afford to be late.
2. Change the parting: No way better to hide those greasy, unwashed hair than changing the parting of your hair. Swap your parting for the day, when you are losing out on time and have a deadline to meet. This cheat trick will add volume to your hair as compared to the your flat tresses and show the slightly cleaner side of your scalp and hair.
3. To conceal greasy roots, use a small claw clip to pull back from the crown area and then spritz a bit of hair spray. This added height will lift up the roots and make them look fresh.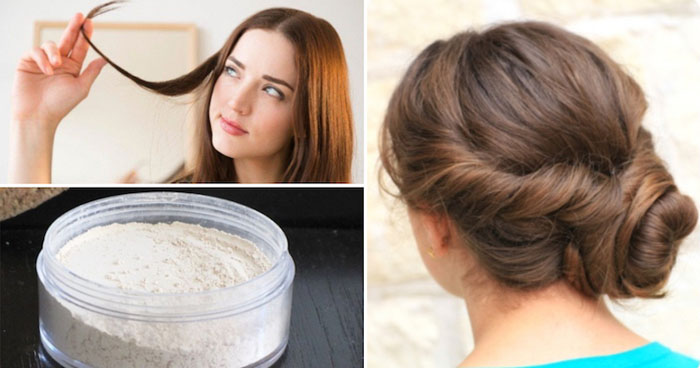 4. Top Bun: It's a super trendy, super cute look for your messy locks. A messy top bun saves you loads of time on those days you need to run for your academic life or work life. Simple and extremely easy to make, just wrap your hair round and secure those locks with a hair tie and pull a few strands out for that extra chic look.
5. Clean bangs are just an illusion: Washing a part of your hair is much better than washing your whole hair. Especially for ladies you have long tresses like me. The front of your hair is always slightly more greasy and messy than the rest of the hair on your head. Tie the rest of your hair back and make good use of that wash basin or hand shower to wash and clean the front of your hair. Clean bangs give you the perfect illusion for the rest of your unclean hair. Easier to wash and faster to dry.
6. Look cute and cover greasy hair at the same time by wearing a pretty headband, that's it!
7. Dry Shampoo your way through: A quick dash of dry shampoo on the locks and near the scalp will help dry up and absorb the greasiness. It's a fairly simple and quick way to freshen up hair and tresses.
8. Give these quick tips a go, when you are on a run and look presentable as you step out of the house. Let me know in the comments below, your favourite go to hair saviours on those days when you can't just push your self to wake up.