Winter can be tough on your skin and makeup. The cold, dry air can leave your skin feeling dry and flaky, and your makeup can easily become smudged and smeared. However, with the right care and techniques, you can keep your skin and makeup looking healthy and beautiful throughout the winter season.
First and foremost, it's important to take care of your skin during the winter months. The cold, dry air can strip your skin of its natural moisture, leaving it feeling dry and uncomfortable. To combat this, make sure to moisturize your skin regularly, using a moisturizer that is formulated for your skin type. Look for products that contain hydrating ingredients like glycerin, hyaluronic acid, and ceramides, which can help lock in moisture and protect your skin from the elements.
In addition to moisturizing your skin, it's also important to exfoliate regularly to remove dead skin cells and keep your skin looking smooth and radiant. This will help your makeup go on smoothly and evenly, and will also help prevent flakiness and dry patches. Choose an exfoliator that is gentle on your skin and use it once or twice a week, depending on your skin's needs.
Once you have taken care of your skin, it's time to focus on your makeup. To keep your makeup looking fresh and flawless throughout the day, it's important to use long-lasting, waterproof products. This will help prevent your makeup from smudging or smearing due to the cold, dry air. Look for foundations, concealers, and powders that are specifically designed to be long-lasting and waterproof, and make sure to set your makeup with a setting spray to help it stay in place.
It's also important to adjust your makeup routine for the winter months. In the colder weather, you may want to use more coverage to help hide dry patches and flakiness. Opt for a full-coverage foundation or concealer, and make sure to apply it evenly and blend it well to avoid any noticeable lines or streaks. You may also want to use a hydrating primer before applying your foundation, which can help create a smooth base and prevent your skin from looking dry or dull.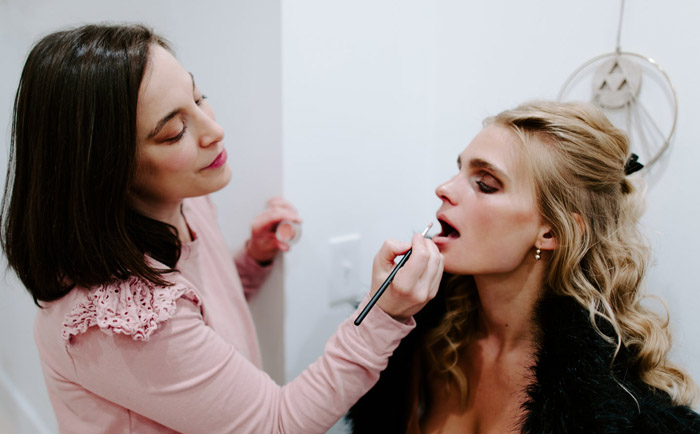 When it comes to your eyes, choose waterproof and smudge-proof formulas for your eyeliner and mascara. This will help prevent any smudging or smearing and will ensure that your eye makeup stays in place all day long. You may also want to avoid using too much eyeshadow, as the dry air can cause it to flake and crease. Instead, opt for a more natural look and use a neutral eyeshadow shade as a base, and add some definition with a thin line of eyeliner and a few coats of mascara.
Finally, don't forget to take care of your lips during the winter months. The cold, dry air can leave your lips feeling dry, chapped, and uncomfortable. To prevent this, make sure to use a lip balm or lip primer before applying your lipstick or lip gloss. This will help moisturize your lips and create a smooth base for your lip color. Choose a hydrating formula for your lip color, and avoid matte or drying formulas, which can exacerbate dryness and chapping.
In conclusion, taking care of your skin and makeup in the winter can be a bit of a challenge. However, with the right products and techniques, you can keep your skin and makeup looking healthy and beautiful throughout the season. Make sure to moisturize your skin regularly, exfoliate to remove dead skin cells, and use long-lasting, waterproof makeup products. Adjust your makeup routine for the colder weather and take care of your lips to prevent dryness