What is the worst beauty nightmare a woman can wake up to? A tired and dull face just before she has to get ready for a meeting, party or most important of all a wedding! Scary as it may seem, but here's some good news. We compiled a list of detoxifying facial masks that can make a woman look her glowing best regardless of how tired her face looks. 
Say goodbye to tired, dull, and puffy face woes with these 7 amazing homemade face masks to detox your face in the best possible manner.  Women, take note of these and all beautiful brides-to-be, add these already to your pre-wedding skincare regime. 
#1. Choco-caffeine detox mask
Take 1 tsp of ground coffee (or instant coffee) and add a tsp of cocoa powder and plain yogurt to it. Mix these three ingredients well and apply them to your face. Wash it after 15 minutes and notice the radiance in your skin.
Coffee is known for its property to reduce swelling around the eyes while the antioxidants in cocoa powder work against aging. To top it all, yogurt provides intense moisture for visibly glowing skin. You can also add some honey to the mixture for better results.
Quick Tip: Coffee can refresh and illuminate your skin instantly! You just need to add a few drops of olive oil to the coffee and apply, that's all! 
#2. Tomato juice and honey detox mask
Women who have regular acne, blackhead, or other such skin problems can benefit greatly from this mask. Mix 2 tsp of tomato juice with 1 tsp of honey, and apply it to your face. Leave it on for 25 minutes before rinsing it off. This soothing face mask is an amazing overall beauty session for your face that you can indulge in at home.
#3. Grape detox mask
Mix the juice of 4 seedless grapes with a little flour till it thickens into a paste. To this, add a quarter tsp of baking soda. Then, apply this mix to your face. Wash after 15 minutes and moisturize. The grape mask is an excellent way to detox your face while reducing blemishes and tightening the skin. This is also an amazing face mask for women who have oily skin.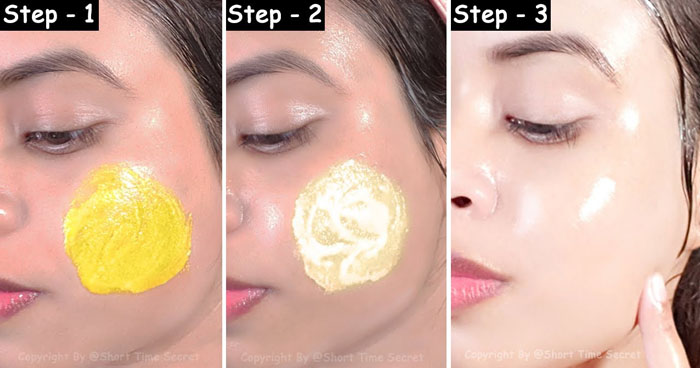 #4. Parsley detox mask
Make a decoction by boiling 1 tsp of chopped parsley in water and let it rest for 15 minutes. Strain the herb, and when it cools down, apply it to your face. This will help flush out toxins from deep under the skin. It is a great way to clean your skin pores and brighten your complexion. It is also an effective treatment to reduce spots and blackheads.
#5. Strawberry face mask
If you are looking for a mask that cleans and tightens your skin pores and refreshes your tired-looking face, then this is the one for you. Just mash a few strawberries and mix them with 1 tsp each of yogurt and honey, and 2 tsp of lemon juice. Now, apply this paste to your face and rinse it off with cold water after a few minutes to reveal a clear and rejuvenated face.
#6. Banana face mask
Say goodbye to dry and dull skin with a banana mask. Mash a banana and add 1 tsp of honey and 2 tsp of sour cream in it. Now, mix this and apply the paste to your face. Let it dry for 15-20 minutes before rinsing it off. This pack will help to restore your skin's lost moisture. What's more? It will also unclog your skin pores and allow them to breathe.
#7. Clay detox mask
There is nothing like clay to detoxify the facial skin while toning and firming it. Especially, women with oily skin must try this face mask.
Take 1 tsp of Kaolin clay and 1 tsp of apple cider vinegar and a few drops of your favorite essential oil in that. After the mask dries out completely, wash off and apply coconut oil to areas prone to dryness. You can also add rose water, milk, or yogurt to this mix.