We don't actually mind the extreme dryness and roughness around the elbow area because no amount of moisturizer seems to work to soften the skin, and no amount of massaging lemon peel would work; in fact, applying lemon peel can worsen the situation.
1. Exfoliate with this Papaya Scrub: Exfoliating your elbows with the help of harsh loofahs and brushes might seem like an easy and quick fix; however, there are gentle and more effective ways to exfoliate the skin, and one of them is using this papaya and oats scrub. Papaya has an enzyme called "papain," which dissolves dead skin cells and also improves collagen turnover.
Regular use of papaya also removes blemishes, and dark spots and evens out skin tone, giving a glow to the face, naturally. The other ingredient in this scrub, oats, also acts as a gentle exfoliant. Oats are also deeply moisturizing your skin and help fight against premature aging. But do remember to massage this scrub onto wet skin, keep it for 20 minutes, and wash away in a gentle circular motion.
2. Milk Pack: Milk is a natural moisturizer, also rich in lactic acid. While lactic acid exfoliates and reveals a smoother texture, the moisturizing properties of milk keep your elbows protected. To make this milk pack, dip a cotton ball in raw milk, and massage the rough skin of the elbows. Keep for 20 minutes, and rinse off with normal water.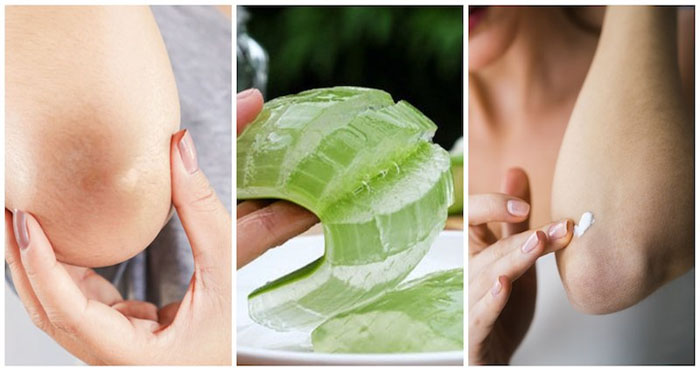 3. Moisture with a Thick Lip Balm: Using the right kind of moisturizer is the key to keeping your elbows protected, and your regular body lotion may not provide sufficient moisturization. For your elbows, use a thick lip balm instead that deeply conditions dry and chapped skin.
4. Never Forget To Apply Sunscreen: Elbow is the last place where we would think of applying sunscreen. Keeping your elbows covered is a sure shot way to protect them from the harsh rays of the sun. Protect your elbows with a broad-spectrum sunscreen to prevent skin damage.
5. Apart from moisturizing your elbows throughout the day, you need something heavy-duty on your elbows to treat them from inside while you get your 8 hours of beauty sleep. For this, we suggest that you use Vaseline petroleum jelly on your elbows at night. Just apply a thick coat of jelly on your elbows before bedtime, forget about it and doze off.
6. Overnight Treatment with Coconut or Avocado Oil: Coconut oil and olive oil can help soften rough skin. Apply either coconut oil or olive oil before bedtime and allow these oils to penetrate deep into the skin and smooth out the dryness. Coconut oil also treats hyperpigmentation and moisturizes skin as well. You can also try this mask, mix 3 tbsp of coconut oil with the juice of half a lemon. Massage the elbow area for 2 to 3 minutes, keep for 15 minutes, and wash off with warm water.
7. Invest in a Good Retinol Product: Retinol is not just for your face, it also exfoliates the top layer of skin, stimulates cell turnover, and helps replace old dead cells with new smoother ones.
8. Baking Soda Scrub: As we all know, baking soda has exfoliating properties and when used as a scrub, it will soften the elbows and clear darkness as well. Take 1 tbsp of baking soda and add water bit by bit to make a paste. Apply to the elbow area, scrub in a circular motion for 2 to 3 minutes, and wipe off with normal water.